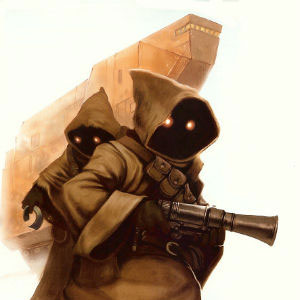 Jawa

Jawas are typically short rodent-like natives of Tatooine, immediately
recognizable by their glowing yellow eyes and brown hooded robes. They are
notorious scavengers, seeking out anything that may be of value to sell or
trade. They travel in their huge sandcrawler transports peroidically
visiting settlements to sell their second hand goods.
JAWA:
ABILITY SCORE MODIFIERS: -2 STR, +2 INT, +2 CHA, +2 CON
RACIAL BENEFIT: +2 to all crafting skills, mechanics expert feat

NOTES: JAWAS CAN ONLY SPEAK JAWA AND MAY HAVE DIFFICULTY
COMMUNICATING WITH OTHER CHARACTERS IN CHARACTER.