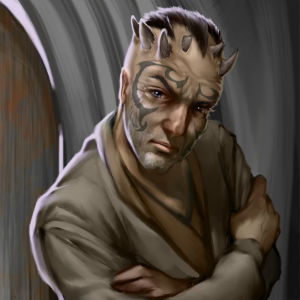 Zabrak

The Zabrak, also known as Iridonians (when referring to the Zabrak who came
from Iridonia), were a carnivorous humanoid species native to Iridonia,
a planet located in the Mid Rim known for its inhospitable terrain and fierce
predatory life. They were a species known for having a fierce sense of
self-determination and an equally dominant need for independence.
Zabrak resembled Humans to some degree, but had a number of significant
physical characteristics that set them apart from baseline Humanity. The
most striking of these were a series of vestigial horns that crowned the heads
of both males and females.

Another of the traits that made Zabrak instantly recognizable were their facial
tattoos, which were made up of thin lines received during their rite of passage.
These could symbolize many things, including but not limited to family lineage,
place of birth, or even a design that reflected their individual personalities.

ZABRAK:
ABILITY SCORE MODIFIERS: +2 DEX +2 CON
RACIAL BENEFIT: +3 to Tactics, Use the Force and Acrobatics checks. +1 to hit
with lightsabers.