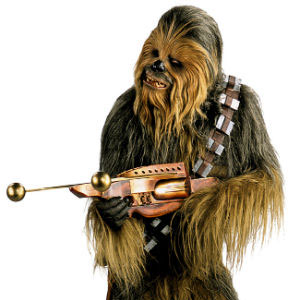 Wookiees
The Wookiees, whose name for themselves translated to the People of the Trees,
were a species of hairy bipedal humanoids that were inhabitants of the planet
Kashyyyk.

Biology and appearance
The Wookiees' natural habitat was the dense forests of the planet Kashyyyk
(though one source does contend that they were immigrants to this planet).
Kashyyyk was covered with massive wroshyr trees, in which the Wookiees
constructed their homes and cities. Reportedly, Wookiees were descended from
tree-climbing mammals.
They had the ability to easily learn most languages. However, Wookiees lacked
the vocal structure to speak anything other than their own languages.
Adult Wookiees were tall, in excess of two meters in height, and were covered
with a uniform, mid-length coat of thick hair in various shades of brown.
Although albino Wookiees were rare, they were not unheard of. However, such a
birth was generally held to be a bad omen, as white hair did not blend in with
the earth-tones of their forest surroundings.
Kashyyyk.

WOOKIEE:
ABILITY SCORE MODIFIERS: +4 STRENGTH, +2 CONSTITUTION, -2 CHARISMA
ABILITIES: ENHANCED HEALING RATE, BOWCASTER USAGE, HEIGHTENED INTIMIDATION,
WOOKIEE GRIP FEAT

Note that Wookies can understand any language they've learned, but are only
able to speak shyriiwook, the wookiees' racial language.