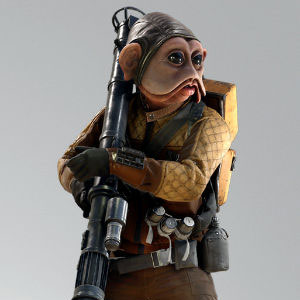 Sullustans

Sullustans were a species of humanoids from Sullust. As skilled pilots and
navigators, Sullustans, also known as Bomewrights, were common sights for
spacers and at busy spaceports. The Sullustans played an important role in the
Galactic Civil War and were charter members of the New Republic. Notable members
of the species include Nien Nunb and Ten Numb.
Biology and appearance
A diminutive species of near-Humans, Sullustans ranged from 1 to 1.8 meters in
height and bore round, tapered skulls. Sullustans were distinguishable for their
almond-shaped black eyes, facial jowls called dewflaps and large, round ears.

SULLUSTANS:
ABILITY SCORE MODIFIERS: +2 DEX, +2 INT
RACIAL BENEFITS: +3 on Pilot skill checks, -10 seconds on hyperspace calculation
times.