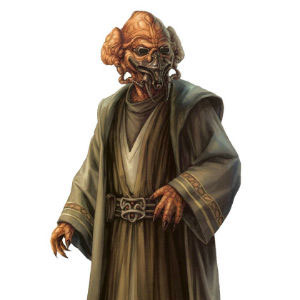 Kel Dor

The Kel Dors, sometimes referred to as Kel Dorians, were a species hailing from
the technological planet Dorin. They required masks to protect them when in
oxygen-rich atmospheres. They were also known for the unique Force-using
traditions of the Baran Do Sages.
The Kel Dors were a tall race, typically of the same height and weight as
black eyes, although some were born with silver irises, a mark that was often
seen as an affinity for the Force.
Kel Dors were, as a whole, considered an unattractive species due to their
strange facial structure. Their noses were described as falling short of
becoming a beak, with a gaping opening that descended to the mouth, a toothless
chasm with drooping fleshy strands. In place of teeth, Kel Dor had an upper and
lower hard-palate, visible only when they pulled their lips back. Framing their
head were extrasensory organs which terminated in small black tusks. Their skin
ranged in color from peach to a crimson red.
KEL DOR:
ABILITY SCORE MODIFIERS: +2 DEX, +2 WIS
RACIAL BENEFIT: +3 TO PERCEPTION CHECKS, CANNOT ROLL LOWER THAN A 10
ON USE THE FORCE CHECKS.