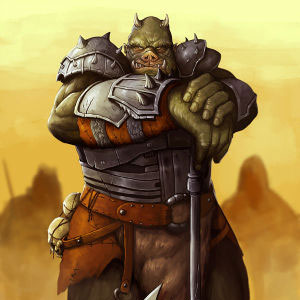 Gamorrean

Gamorreans were porcine humanoids from the lush jungle Outer Rim planet of
Gamorr where their technological level was equivalent to lower technology
periods that Human civilizations experienced more than 25,000 years ago. They
also colonized the planet Pzob in the K749 system and were the majority sentient
species on Lanthrym in the Elrood sector. Their vessels provided only essential
amenities as well as shields and weapons. Gamorreans were typically
green-skinned with a large powerful physique, and were known to be fierce
warriors prized for their great strength and brutality in combat. They were
organized into clans headed by a Council of Matrons. In Gamorrean society
female sows perform all the productive work while the male boars concentrated
on training for and fighting wars. They spoke Gamorrese (also called
Gamorrean). One of their favorite weapons was a traditional war axe called an
arg'garok that was forged specifically for beings of extraordinary strength
and a low center of gravity.

GAMORREANS:

ABILITY SCORE MODIFIERS: +3 STR, +3 CON, -2 INT
RACIAL BENEFIT: +2 TO FORTITUDE DEFENSE, +5 TO DAMAGE THRESHOLD

NOTES: GAMORREANS CAN ONLY SPEAK GAMORREAN AND MAY HAVE DIFFICULTY
COMMUNICATING WITH OTHER CHARACTERS IN CHARACTER.