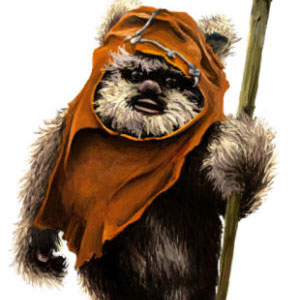 Ewok
Ewoks were sentient diminutive furry bipeds native to the forest moon of Endor. Ewoks were curious individuals that stood about one meter tall; they were omnivorous and used spears, slings, and knives as weapons; they also used hang gliders, battle wagons, and bordoks as vehicles. Although extremely skilled in forest survival and the construction of primitive technology like gliders and catapults, the Ewoks had yet to progress past stone-level technology when discovered by the Empire. They were quick learners, however, when exposed to advanced technology with simple mechanical processes and concepts.
Some Ewoks were removed from their planet and taken as pets or slaves. Others left voluntarily out of a sense of curiosity.

EWOKS:

ABILITY SCORE MODIFIERS: +4 DEX, +2 CON, -2 STR
RACIAL BENEFITS: +3 TO SURVIVAL AND PERCEPTION SKILLS, CAN NEVER ROLL LOWER THAN A 10 ON STEALTH CHECKS.
NOTES: EWOKS ARE SMALL CREATURES AND CANNOT WIELD LARGE WEAPONS. THEIR ARMOR MUSTBE RESIZED TO FIT THEM AS WELL.