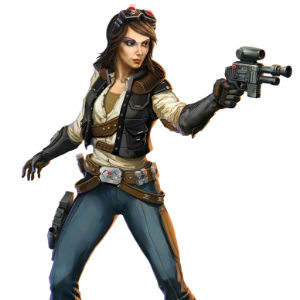 Humans
Humans were the galaxy's most numerous and politically dominant sentient species with millions of major and minor colonies galaxywide. Believed to have originated on the galactic capital of Coruscant, they could be found anywhere, engaged in many different pursuits: spacers, mercenaries, smugglers, merchants, soldiers, assassins, farmers, crime lords, laborers, slaves, slavers, and many others, including Jedi. Since Humans were the most common sentient species, they were often considered to be a standard or average to which the biology, psychology, and culture of other species were compared.

Humans gain no bonuses or penalties to ability scores, and they start off knowing only the language 'basic'. They do receive one extra skill point each level and start off with an extra feat as well.

HUMANS:
ABILITY SCORE BONUSES: None
RACIAL BENEFITS: +4 Points when setting ability scores during character creation or a respec. 1 extra feat at level 1. +2 skil point each level.