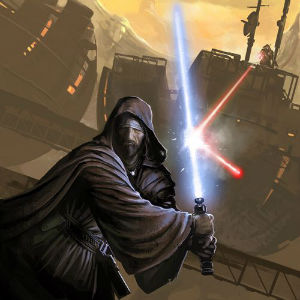 Miraluka

The Miraluka are a humanoid, Force-sensitive species. Their language was
Miralukese, although some, like Visas Marr and the Dark Jedi Jerec, preferred
Basic. The Miraluka are a humanoid species that differed from Humans in that
they lacked eyes, only retaining vestigial eye sockets, and perceived the
environment around them through Force sight instead of regular vision. This
vision was so strong that if a Miraluka looked upon a Jedi or Sith, they
could "see" Force radiating off them. The strength of a Miraluka's
connection to the Force varied by individual.

MIRALUKA RACIAL ABILITY SCORES: +2INT, +2 WIS
RACIAL BENEFITS: 1 RANK IN FORCE TRAINING, BLIND-FIGHTING

** Please note that this race is no longer available for selection,
although existing characters may keep it if so desired.