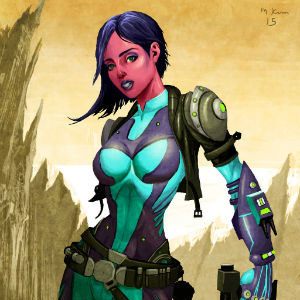 Zeltron

Zeltrons were one of the few near-Human races who had differentiated from the
baseline stock enough to be considered a new species of the Human genus, rather
than simply a subspecies. They possessed two biological traits of note. The
first was that they all produce potent pheromones, similar to the Falleen
species, which enhanced their attractiveness and likeability. The second was
a limited telepathic ability, used to project emotions onto others, as well
as allowing them to read and even feel the emotions of others; some Zeltrons
were hired by the Exchange for this ability. Because of their telepathic
ability, positive emotions such as happiness, love and pleasure became very
important to them, while negative ones such as anger, fear, or depression
were shunned.

ABILITY SCORE MODIFIERS: +6 CHA
RACIAL ABILITIES: +3 TO PERSUASION SKILL, PERSUASION SKILL DICE ROLLS CAN
NOT BE BELOW 10. AUTOMATICALLY RECEIVES THE PHEROMONES AND PACIFY FEATS.

NOTE: THIS IS AN ADVANCED RACE AND REQUIRES ACCOUNT EXPERIENCE TO UNLOCK.